Anastasia's "Needle" Von Naga
For Sale: $1200.00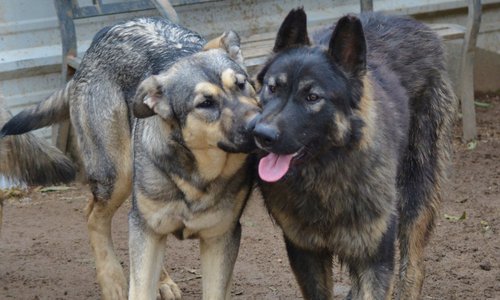 Notes
4:30am. Red Female. 3/4 LB.  feet first. lightest pup so far. hybrid color. no mask. silver sable w/red tint. Low pigmentation snownose@birth. w/tip. pink skin. wish bone white chest. long tail. small. Really long tail. shorter legs. silver leggings. long body. silver brown checks. No mask. not black. kind of reddish brown. silver shoulder blades. silver sides of ribs. small pink lips. pink belly hybrid black. is not real black. Red starting to make some noses now. long pup. small w/sock/toes r/front. very small. w/toes rear. w/toes sock, left front. should resemble Anastasia but better looking. Small. Sleeps and eats.
11-17-21: Needle will be for sale AFTER her first litter of pups.
12/12/2021 As many of you know who follow our project, all of our dogs are kept for the purposes of continuing to create the ultimate companion dog with the look, size, and composition of the dire wolf.
Keeping that in mind, we also have to acknowledge when a dog may not be suited for the kennel life. In the case of Needle, she truly does need her own family. She is a fantastic female who is happy to go anywhere and just be with you. She would love to go for long walks, and she may even be a jogger with you! On the other side of the spectrum, she from, she would love to lay at your feet and just be a part of your world.
Needle also is vocal! She will let you know when she is not happy with her current situation! For some of you, this will be a deterrent, for others, this will be something that you can handle and that you may enjoy, having a more vocal dog.
If you know someone who is looking for an amazing female with an outgoing personality that loves to be around people, let us know! *She will be used for the Fox Project, spayed and then adopted after this.*
Interested:
9-24-2020 Samuel Stevens
Health Record
Nemex II 02-10-21; 02-24-21
Photo Gallery
Litters
Laddie Boy X Needle 2022
---
Sire
---
About the Litter (American Alsatian)
Needle will breed with Laddie Boy for the Fox Project.
---
---