Ashley's "Warleggan" Von Quentin
Notes
First pup from left to right.
Largest male in litter when born.  Silver wolf gray and getting lighter as the days go on. Black nose and pads at birth. dark dorsal stripe and tiger striped skin. Looks like he will look like a Mastiff.
Tail has a definite color stop of black below and cream above. funny looking. Largest head in litter. Well placed ear set. Pick of the litter at 7 thousand. Might keep this boy.
4-30-20: Largest male in litter. Silver wolf gray. Easy going no noises. tiger stripes. Black muzzle. girth of shoulders and butt.
5-20-20: Pick of the litter. Large girthy muscular pup. A star for sure!  Great temperament, will get along with kids and animals. Easy going, laid back companion dog. Should live up to 12 years or more.

Health Record
Duramune Max 5 - 12/27/2021
Photo Gallery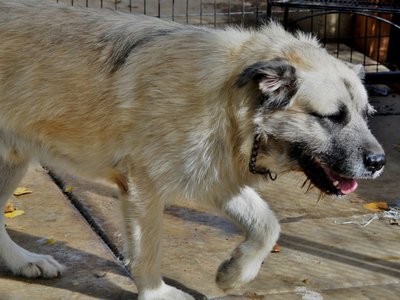 Big boy... :)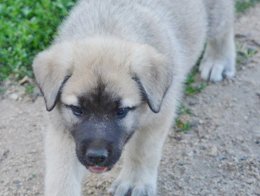 Warleggan Growing Up
Warleggan - Beautiful Head
Test Scores
Test
Birth Scores
(May 28, 2020)
Intelligence (process of thought)
10
Pitch of/Vocal sounds
10
Barking
10
Whining and talking back
10
Prey drive
9
Chewing
9
Swallowing stuff
9
Dominance/aggression towards humans
10
Challenging owner/trainer
10
Child friendly
10
Dominance/aggression towards other dogs
10
Dominance/aggression towards smaller animals
10
Soft/hard bite (mouth)
10
Touch sensitivity
10
Emotional sensitivity
10
Sound sensitivity
10
Ease of training for the average person
10
Velcro (not wanting to wander)
Genetic hyperness or Energy level (pacing the fence line)
10
Investigative or inquisitive (independence)
10
Stubborness (doing what it wants instead of what you want)
9
Eating of feces
10
Sanitational pooping in the designated spot
10
Sloppy drinking
10
Age of life
12
Health issues
10
Retrieving or carrying objects
8
Digging
10
Conformation
10
Girth
10
Eyes
Ears
Nose
10
Girth of Skull
10
Length of Tail
10
Feet
10
Neck
10
Topline
10
Gait
10
Litters
Warleggan X Nano 2022
---
---
About the Litter (American Alsatian)
Interested:
2-8-2021 Colter Cederlof
---
---
Warleggan X Tiki 2022
---
---
About the Litter (American Alsatian)
Interested: 05-13-2021 Benjamin Davidowitz
---
---