Kip's "Tiki" Azteca Von Draygo
Notes

NOTES ON TIKI:
Interested in:
Kayla Exum
Is this pretty easy going right here? This looks like a keeper.
Not as laid back as Blu Apache but i don't need a laid back dog in this pup. I want a solid stud with some go power. We shall continue watching this boy.
11-24-20: Found out this guy was a girl last week. Not a forward outgoing pup. Standoffish but not shy. Takes her time to think. Is LEARNING and paying attention to things. looks like she also has slanted eyes and no stop. I shall wait until the six week mark to choose my breeder keepers.
12-1-20:  Put this pup in with Sela since her pups are all gone. Kip is also gone to new home.
They are all doing well and eating good.  This pup is now coming forward. Knows where the food comes from. Thinking of keeping this pup of course. Coat is getting fluffier.
Health Record
HEALTH RECORD ON TIKI:
Nemex II 11/14/2020, 12/3/2020
Duramune Max 5 - 12/27/2021
June 2022: Was Bred to Warleggn
Photo Gallery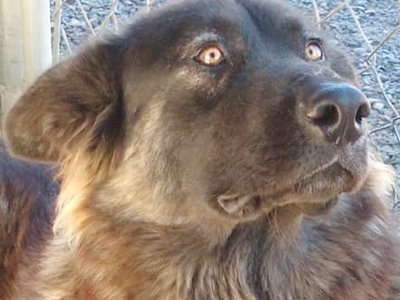 Tiki Pup
Test Scores
Test
Birth Scores
(Dec. 1, 2020)
Intelligence (process of thought)
10
Pitch of/Vocal sounds
9
Barking
9
Whining and talking back
8
Prey drive
8
Chewing
9
Swallowing stuff
9
Dominance/aggression towards humans
10+
Challenging owner/trainer
10+
Child friendly
10
Dominance/aggression towards other dogs
9
Dominance/aggression towards smaller animals
9
Soft/hard bite (mouth)
10
Touch sensitivity
9
Emotional sensitivity
9
Sound sensitivity
10
Ease of training for the average person
8
Velcro (not wanting to wander)
7
Genetic hyperness or Energy level (pacing the fence line)
8
Investigative or inquisitive (independence)
7-8
Stubborness (doing what it wants instead of what you want)
8
Eating of feces
10
Sanitational pooping in the designated spot
10
Sloppy drinking
9
Age of life
13
Health issues
Doesnt do well on kibbles. Does good on meat.
Retrieving or carrying objects
7
Digging
7
Conformation
7 small
Girth
7
Eyes
10+
Ears
10
Nose
10
Girth of Skull
8
Length of Tail
9
Feet
9
Neck
9
Topline
9
Gait
10
Litters
Noodle X Tiki
---
---
About the Litter (American Alsatian)
2/15/2022 Tiki is not pregnant. We will try one more time when she comes in heat again around September.
*She looks to be pregnant. Noodle did not show us a breeding... so the date of birth will be closely watched and anticipated!
Interested:
4-18-2020 Brook Coopman
05-13-2021 Benjamin Davidowitz
10-16-2021 Mandy Erasmus
10-18-2021 Mitch Galet (Jens List)
11-2-2020 Jonathan Butterfield
11-30-2021 Stephen Councilman
12/30/2021 Shayla Mccaul (Female)
2/2/2021 Mindy Burford
2/22/2022 Ben and Josie Sheehan
Tiki is out of 'Kip (Yukon x Anastasia) x Drago (Boss x Saigon). This means the pups will be very large Dire wolf pups of about 150-190 lbs. Anastasia does throw some smallish pups and Tiki is not the largest in her litter, so this should make some of them 130ish? i hope. No one needs a dog over 130 lbs! Tiki can be a bit hyper but this is only because she was not trained as a pup. All pups deserve to be educated as puppies but sometimes a litter gets by me so i have retired. Hopefully no other litters will go without training. So Tiki never got educated and is a bit confused about rules and human laws concerning dogs doing as they are told. She can not understand why we will not allow her to be a bitch.
With rewards and loves and a firm hand, she can and will turn into a very loving female momma dog one day. She WANTS to please and i know it is in her as i saw it in her as a puppy. She was my favorite pup in that litter. She is Dire Wolf looking to a T...
She is loving and kind and can get out of hand as a female without training can but if one sits and asks her to come for hugs she will be pleased to do so. So........... breeding Tiki with Noodle is not my first choice but it will be an ok match. It will give us massive bones and girth and weight but personally, i don't care for that large of a dog, I care more about the temperament.
Both of these two dogs are lovable gentle souls as mature dogs but both have and come from energetic kind of childhoods. This means you may NOT over work them and allow them to do as they please. You must train your pup EARLY and you must get your pups early therefore you must know dogs or allow us to train them in their first 3 months of life.
These are not pups for first timers unless you are a unique person that can go the distance and do your homework. I am very picky where my great pups go and i must approve you for a pup in this litter.
These pups will be EXPENSIVE as they will be DIRE WOLVES. All of my 35 yrs of breeding begets these pups right here... Everything comes together so get ready or hurry up and wait until you are ready.... No one gets a DIRE WOLF if they are not ready to have one.
All contracts will state that the pup MUST COME BACK TO ME if you can not handle it when it is 190 lbs and you are a weenie and did not train them.
Pups will probably start out at 9 thousand dollars as first born and drop as we test score them. Ending up price should be about 6-7 thousand dollars. All ears will be up. All eyes will be yellow. All pups should be black when born and lighten up as they mature. (Black and tans or saddle pups or German shepherd looking pups will be sold cheaper. 3800.00-4800.00?)
All temperaments will be smart and intelligent. Any real hyper pups will be sold cheaper, any curled tails will be dropped in price and any barkers or whiners will be sold cheaper. I guess you can pray for this, but i don't think there will be many in the litter.
Amey will probably keep 4 or 5 in the litter if i know her and jen might want one or two? We shall see. I know you are all excited about them. I told you we were done breeding as we had reached my goals.. This is the DIRE WOLF LITTER.. <3
---
---