Anastasia's "Noodle" Von Naga
Notes
1-10-2021 1:12 PM Orange. Male. Black. Long. W/TOES/CHEST. HEAD FIRST. W/CHIN 1.41 LB BLACK SKIN. 1-23-21: Black male Stud co-ownership? Temper. stubborn. independent at this age.
11-18-21: We call this 'pattern' a Black and tan, though it could be a Black and Cream or a Black and silver. We usually do NOT keep this color as our dogs must not resemble the GSD or any other pure bred dogs.
Noodle takes after his dad. Energetic as a pup, not liking authority or rules and regulations. Last to come out of the den and very standoffish as a pup. This litter was never been trained. Will be easy to train when i get around to it. Long/thick malamute looking coat. Thicker undercoat than guard hairs. Long coats are produced on the sex (male) genes. He will throw med and long and shorter coats. Under coat is not approved for a dire wolf, but a thick undercoat is recessive as is black and tan pattern. He is being kept for his bone structure, size and girth as well as his genetic lines. He is a 'stud' dog and not chosen as a 'companion dog'. He will bring excellent quality and consistency to our lines.
1-17-22: Noodle is a lover and a hugger. He is slow to mature as large heavy dogs are. He is submissive to all other dogs and at this time has not yet bred as no one wants him on top of them as of yet. He must weigh about 130 lbs at this time. He is being trained to come when i sit down and to come into my open legs for hugs. He has been on a leash 3 times in his life. He is laid back and easy going but can run and hop around and be silly for about 10 min or so. Is not a hiking dog or a jogging dog. He is a companion dog.
Health Record
Nemex II 02-10-21; 02-24-21
Corona Distemper Adeno2/Parvo 3-1-21
Duramune Max 5: 03-15-2021, 12-27-2021

Photo Gallery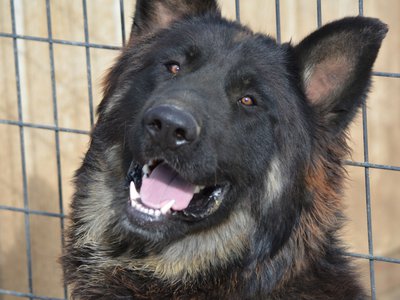 Naga Smiles
Naga the Bear
Litters
Noodle X Tiki
---
---
About the Litter (American Alsatian)
2/15/2022 Tiki is not pregnant. We will try one more time when she comes in heat again around September.
*She looks to be pregnant. Noodle did not show us a breeding... so the date of birth will be closely watched and anticipated!
Interested:
4-18-2020 Brook Coopman
05-13-2021 Benjamin Davidowitz
10-16-2021 Mandy Erasmus
10-18-2021 Mitch Galet (Jens List)
11-2-2020 Jonathan Butterfield
11-30-2021 Stephen Councilman
12/30/2021 Shayla Mccaul (Female)
2/2/2021 Mindy Burford
2/22/2022 Ben and Josie Sheehan
Tiki is out of 'Kip (Yukon x Anastasia) x Drago (Boss x Saigon). This means the pups will be very large Dire wolf pups of about 150-190 lbs. Anastasia does throw some smallish pups and Tiki is not the largest in her litter, so this should make some of them 130ish? i hope. No one needs a dog over 130 lbs! Tiki can be a bit hyper but this is only because she was not trained as a pup. All pups deserve to be educated as puppies but sometimes a litter gets by me so i have retired. Hopefully no other litters will go without training. So Tiki never got educated and is a bit confused about rules and human laws concerning dogs doing as they are told. She can not understand why we will not allow her to be a bitch.
With rewards and loves and a firm hand, she can and will turn into a very loving female momma dog one day. She WANTS to please and i know it is in her as i saw it in her as a puppy. She was my favorite pup in that litter. She is Dire Wolf looking to a T...
She is loving and kind and can get out of hand as a female without training can but if one sits and asks her to come for hugs she will be pleased to do so. So........... breeding Tiki with Noodle is not my first choice but it will be an ok match. It will give us massive bones and girth and weight but personally, i don't care for that large of a dog, I care more about the temperament.
Both of these two dogs are lovable gentle souls as mature dogs but both have and come from energetic kind of childhoods. This means you may NOT over work them and allow them to do as they please. You must train your pup EARLY and you must get your pups early therefore you must know dogs or allow us to train them in their first 3 months of life.
These are not pups for first timers unless you are a unique person that can go the distance and do your homework. I am very picky where my great pups go and i must approve you for a pup in this litter.
These pups will be EXPENSIVE as they will be DIRE WOLVES. All of my 35 yrs of breeding begets these pups right here... Everything comes together so get ready or hurry up and wait until you are ready.... No one gets a DIRE WOLF if they are not ready to have one.
All contracts will state that the pup MUST COME BACK TO ME if you can not handle it when it is 190 lbs and you are a weenie and did not train them.
Pups will probably start out at 9 thousand dollars as first born and drop as we test score them. Ending up price should be about 6-7 thousand dollars. All ears will be up. All eyes will be yellow. All pups should be black when born and lighten up as they mature. (Black and tans or saddle pups or German shepherd looking pups will be sold cheaper. 3800.00-4800.00?)
All temperaments will be smart and intelligent. Any real hyper pups will be sold cheaper, any curled tails will be dropped in price and any barkers or whiners will be sold cheaper. I guess you can pray for this, but i don't think there will be many in the litter.
Amey will probably keep 4 or 5 in the litter if i know her and jen might want one or two? We shall see. I know you are all excited about them. I told you we were done breeding as we had reached my goals.. This is the DIRE WOLF LITTER.. <3
---
---